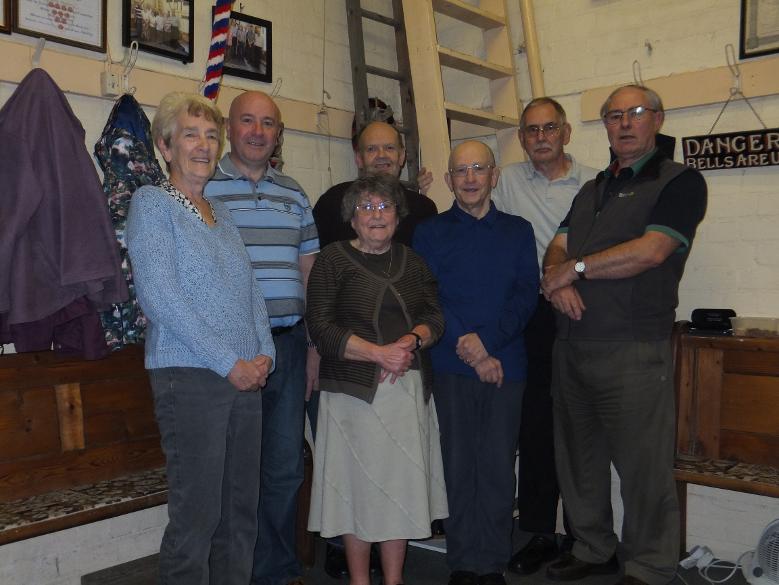 Welcome to our Bell Ringers
We have a thriving bell ringing team here at St Giles.
St Giles originally had 5 bells cast in 1684 and then augmented to 8 in 1887 for Queen Victoria's Jubilee. They were never a good match and in 1984 were remodelled into a fine ring of 8 bells when 2 of the existing ones became the 7th and 6th bells of a new ring with a Tenor bell from a redundant church in Worcester and 5 newly recast bells by the John Taylor Foundry of Loughborough.
Ringing at St Giles (Plse, Click)
The bells of St Giles:
Founder Date Weight (cwt)
Treble. John Taylor 1984 3-0-20
2 John Taylor 1984 3-1-10
3 John Taylor 1984 3-1-6
4 John Taylor 1984 3-2-6
5 John Taylor 1984 4-0-26
6 Gillett & Johnston 1952 5-1-16
7 H and M Bagley 1684 7-1-8
Tenor John Taylor 1948 10-1-0
There are only 7 members of the band at this time so the 8 bells are not often rung unless we have visitors.
We always want to recruit and train new ringers but, like many towers, find it difficult.
There is no age barrier and no particular skills are required except some commitment and patience.
No music or mathematical skills are necessary!
We ring for Sunday morning services and weddings when requested. We may also ring for other special occasions.
We practice on Monday nights from 7.45 to 9.00 pm when all are welcome.